Game Info
Download
《War of Guardian》is an epic and New-Generation MMORPG mobile game featured with breathtaking episodes, HD art effects and various social game-play. The intuitive QTE skill-triggered mode enhance a thrilling Real Time Battle. Immersive fierce PVE&PVP battle is abusively addictive. The game takes place during the European Middle Age through a magical fantastic story line. Players will be able to use enchantment skills to enhance their strengths and challenge powerful boss. Endorse your weapons and ally with other companions to free the three kingdoms to become the most glorious Hero of War of Guardian.
How to download WOG with APK Link?
Dear hero and heroine, do you know how to download WOG by using 'APK File' in your phone?
Tattaaa… we would like to share about this with you now. It can help you download the game if you
cannot find from google play. Let's start!
First, please enter our Facebook Fans Pages [ www.facebook.com/eyouwog ] to get the 'APK Link' as
the picture shown as below: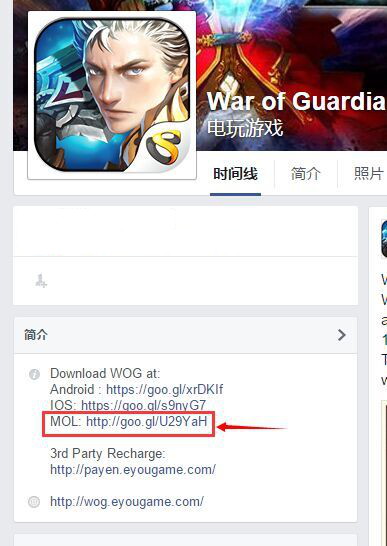 Then click the 'Download APK' to proceed download and finally, we success download the
[ War of Guardian ]. Congratulations for your legendary trip have begin^^